"Murder Investigations & the Expert Witness: Maintaining the moral compass" - Speaker J F Kennedy
Date: 25/07/23
Time: 6pm
Venue: Lecture Council Room, King's College London
Prices
Members: £20.00
Non-members: £25.00
Students: £5.00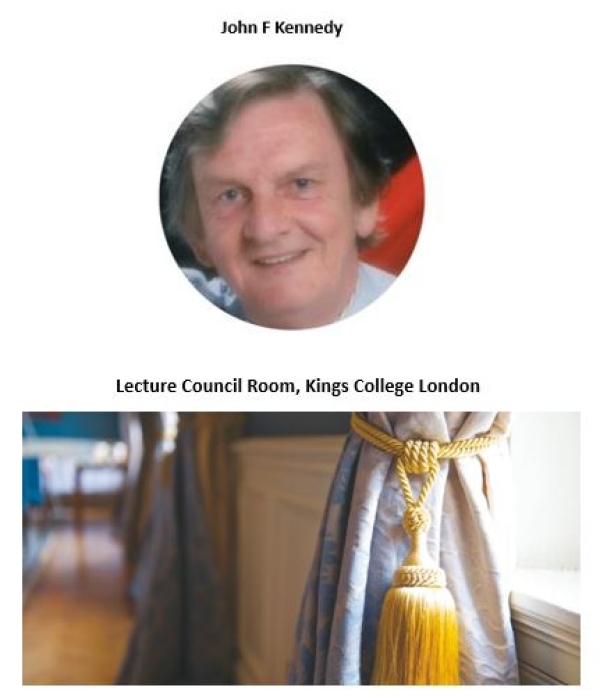 25th July 2023 Speaker J F Kennedy, Presentation "Murder Investigations and the Expert witness: Maintaining the moral compass" and drinks reception in Somerset Room, Lecture Council Room, Strand King's College London WC2R 2LS.
About the speaker: John F Kennedy
John helped pioneer a number of forensic processes involving complex comparison and Reverse Projection work and these are now used by Law Enforcement Agencies all over the world. He has attended LEVA training in Forensic Video Analysis at the FBI Academy at Quantico and at the University of Indianapolis and he has been consulted on some of the world's highest profile cases.
He is the Training Program Manager for LEVA (Law Enforcement and Emergency Services Video Association) www.leva.org, with responsibility for organising training for UK and European Law Enforcement Imaging Specialists. He has helped to organise several intensive training courses on Forensic Video Analysis in the UK, attended by the majority of UK Police Imaging Officers and European Law Enforcement Agencies, CPS, ACPO lead on UK CCTV and the Forensic Science Regulator. Training continues to be delivered at Nottingham Trent University and at West Midlands Police Training Academy. John is a Professional member of the Chartered Society of Forensic Sciences and the British Academy of Forensic Sciences. He also sits on the Advisory Panel for Inside Justice.
Event Abstract
This presentation looks at a real-life Murder Investigation, the conviction of the accused and the subsequent overturning of that conviction.
John Kennedy, a Consultant Forensic Scientist with the Government owned Forensic Science Service [FSS] had been instructed by the Crown. Having undertaken a preliminary review of the evidence, John cautioned the Police in relation to the reliability of the evidence which formed a major plank of the Prosecution case and recommended a particular forensic process to address the issues at hand. John had also recommended that, depending on his findings from undertaking that forensic process, it should be independently reviewed by a suitably experienced and competent Expert. The Police ignored John's advice and travelled to Las Vegas where, in their words, they got the right result. The American Expert gave evidence at Trial and the accused was convicted and sentenced to life imprisonment.
The fallout from this case has been huge, resulting in the Code of Ethics for Experts within this forensic discipline being changed. An interview featuring John's experience in this case is now shown to Police Officers worldwide as part of their ethics training.
The American Expert was investigated by the Police in Oklahoma after receiving complaints regarding alleged similar work by that Expert. The extraordinary and traumatic events that unfolded as a result of that investigation will be revealed at the end of John's presentation.
Trainees/students/emergency workers discounted rate of £5.00
Timings:
6.00pm - Registration, pre drinks reception - River Terrace, Kings College
6.30pm-7.30pm - Lecture
7.30pm-9.00pm - Post event drinks reception - River Terrace, Kings College
Venue:
Lecture Council Room
Strand
King's College
London
WC2R 2LS
Join BAFS
BAFS welcomes applications for Membership from professionals with qualifications in medicine, science, or the law who have contributed, or are likely to contribute, to the application and practice of the Forensic Sciences. Applicants from within these disciplines who are interested, but lack experience, may be offered Associate Membership.