CSFS AUTUMN CONFERENCE 2023 - "Forensic Science: a case-based activity" and "Learning & Teaching"
Date: 27/10/23
Time: TBA
Venue: External Event
Prices
Members: £0.00
Non-members: £0.00
Students: £0.00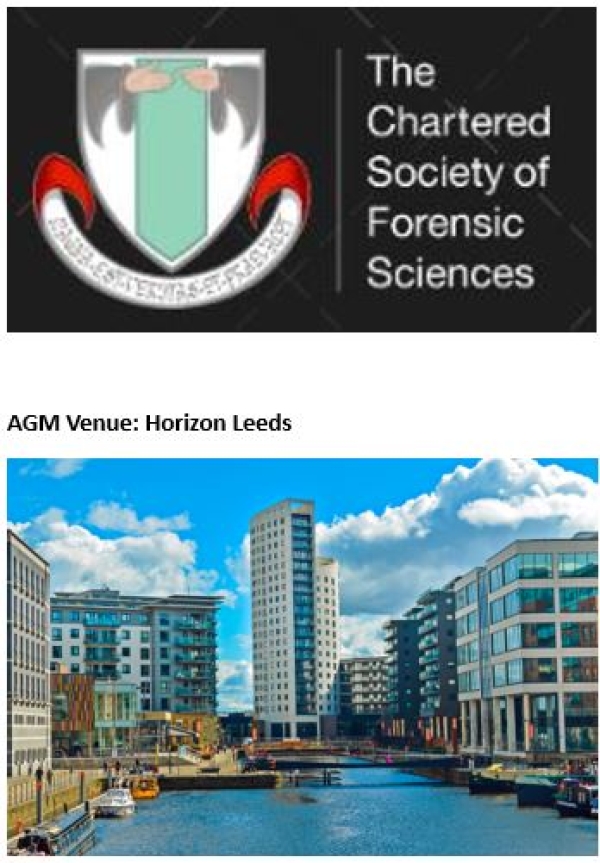 PLEASE NOTE: Do not register via the BAFS site. This is an External Event - Registration and further information about this organisation is available via the external site at this link https://www.csofs.org/news-events/csfs-autumn-conference-2023/
The Chartered Society of Forensic Sciences is delighted to once again be planning an in-person conference as part of the AGM 2023 at Horizon Leeds on Friday 27th October. Last year's event was a great success and well received by all who attended, so with this in mind we are using the same format and venue again this year.
We are delighted to welcome three keynote speakers:
Sir Nigel Sweeney
Professor Niamh Nic Daeid
Dr Carole McCartney
There will be two parallel sessions running through the day:
"Forensic Science: a case-based activity" will offer the opportunity for both practitioners, academics and researchers to showcase their experiences and share good practice, particularly within multidisciplinary teams. Do you have a cold case you have learned valuable lessons from? Are you working on research to improve processes for case reviews? Are you looking at good practice guidelines? We are interested in hearing about any work you are undertaking with a relevance to forensic science and its value to cases within the criminal justice system.
"Learning & Teaching" will focus on forensic science education and training, complementing the overall theme of 'Forensic Science: a case-based activity', submissions will explore instances where case-based examples have been used within teaching and learning, and highlighting the importance of innovative training practices.
Venue:
Horizon Leeds
2, Brewery Wharf
Kendall St
Leeds
LS10 1JR
Phone: 0113 225 3190
Limited preview tickets are available for booking for CSFS members on the member platform
General booking will open on 10th July here.
Sponsorship packages available – CSFS Autumn Conference 2023 sponsorship packages
Directions to venue:
By car
Approaching from the M621 only 0.2 miles from Horizon Leeds
At junction 3 take the exit for the A653
Continue on to Meadow Road (Continue to follow A653)
Use right 2 lanes to turn slightly right on to Great Wilson Street (Continue to follow A653)
Turn left on to Crown Point Road
Turn left on to Bowman Lane
Turn right onto Kendell Street
Horizon Leeds will be on your left
Parking
The closest car park to Horizon Leeds is: CitiPark Leeds Dock – approx 9-minute walk.
A parking discount is available at this site on pre-booked parking tickets only, please contact the team on sales@horizonleeds.co.uk to request the discount code and booking details. Alternatively, you can pay full price on the day via the pay points on site.
Electrical vehicle charging (EVC) points are available. Visit Zap Map to find more EVC points.
By train
Leeds train station is approx 7-minute walk from Horizon Leeds – depending on how fast you walk! Watch the video below to help you get your bearings.
Leave the station via the Marks and Spencer exit (directly in front of the exit barriers)
Turn right onto New Station Street
Walk to the end of New Station Street
Turn right onto Boar Lane
Cross Lower Briggate by Nando's Restaurant and turn right
Continue to Bridge End
Walk over the bridge
Turn left onto Dock Street
Turn right at the entrance to Brewery Wharf (this will be on your right)
Walk to the end of the road
Horizon Leeds will be on your left and Leonardo Hotel Leeds will be directly in front of you
Join BAFS
BAFS welcomes applications for Membership from professionals with qualifications in medicine, science, or the law who have contributed, or are likely to contribute, to the application and practice of the Forensic Sciences. Applicants from within these disciplines who are interested, but lack experience, may be offered Associate Membership.